First Team
BASKETBALL GOALS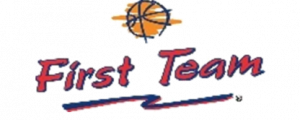 We're  excited to offer First Team Basketball goals and also other sports equipment. Since 1996 First Team Sports Inc. has been leading the way in design and manufacture of basketball goals and sports equipment for competition, recreational, and residential play. Over the years, First Team has grown in size and scope, but one thing that has never changed is their commitment to US manufacturing. All their sports equipment is made with pride in the USA in their Hutchinson, Kansas facility. First Team believes in making high quality, durable sports equipment that is  affordable, easy to use, and safe especially.
Swings and Billiards Etc. offers you a huge selection of sports equipment from First Team, including portable basketball systems, adjustable basketball goals, indoor & outdoor basketball equipment, swimming pool basketball hoops, volleyball sets, in-ground & portable soccer goals, football goal posts, lacrosse goals, even bleachers and team benches. First Team's warranty backs every item.  Discover why First Team is the preferred choice of athletic directors, coaches, equipment managers, and especially homeowners across America. All of First Team's equipment is proudly made in the USA.

Iron clad sports is a leading manufacturer for adjustable, heavy duty, and affordable basketball goals. Their top quality products are sold through local dealers only. So you can trust that Swings and Billiards Etc. is the local distributor for you.
Visit www.ironcaldsports.com to learn more!
Magic Circle
TRAMPOLINES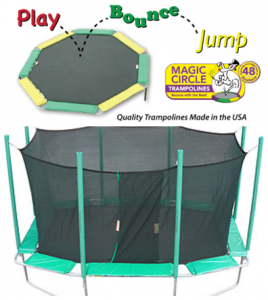 Swings and Billiards Etc. is proud to bring you the finest quality trampolines in the industry.  Magic Circle has been building quality trampolines for over 35 years.  Increased safety features such welded construction, 5-line stitching, pocketed pads, and added springs make Magic Circle trampolines the safest in the industry without compromising the quality or height of your bounce.
Trampolines can both help improve balance and coordination. It can also provide a low-impact exercise which takes up to 80% of the stress off your weight bearing joints compared to jogging.  Some other health benefits of trampoline use include:
Stimulates metabolism.
Increases oxygen capacity.
One of the most beneficial methods to actually decrease cellulite.
Increases oxygen circulation to tissues.
Improves the circulation of the lymph through the lymph glands.
Strengthens the heart (Cardiovascular health).
Increases both energy and sense of vitality.
Firms and even tones the muscles.
Finally, it provides fun and entertainment for the whole family, right in your own backyard!